The Samsung HW-S800B soundbar is an ultra slim way to enhance the sound of your home entertainment. This new model is incredibly small but feature-rich, and it looks impressive.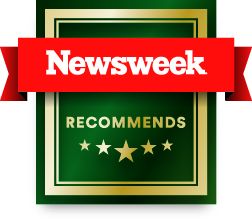 If you're looking for the perfect soundbar to mount under your TV or install with a Samsung Frame TV, this is it. The HW-S800B is only 1.6 inches deep, so it won't protrude far on a wall. It's also compact enough to easily sit on a stand in front of a TV without blocking the screen.
It's not just a slim and stylish soundbar. It includes Dolby Atmos Wireless for wireless connection to Samsung TVs. It also works with Q-Symphony, which allows the soundbar and a Samsung TV to pair and use the TV's speakers to boost sound. The soundbar is a 10-speaker 3.1.2 system that includes two up-firing speakers.
TL;DR
Advantages:
Slim design
Wireless connectivity
Great sound for watching and gaming
The inconvenients:
Several features only work with Samsung TVs
Samsung Bixby is the only voice assistant
Buy from Samsung.
sound and features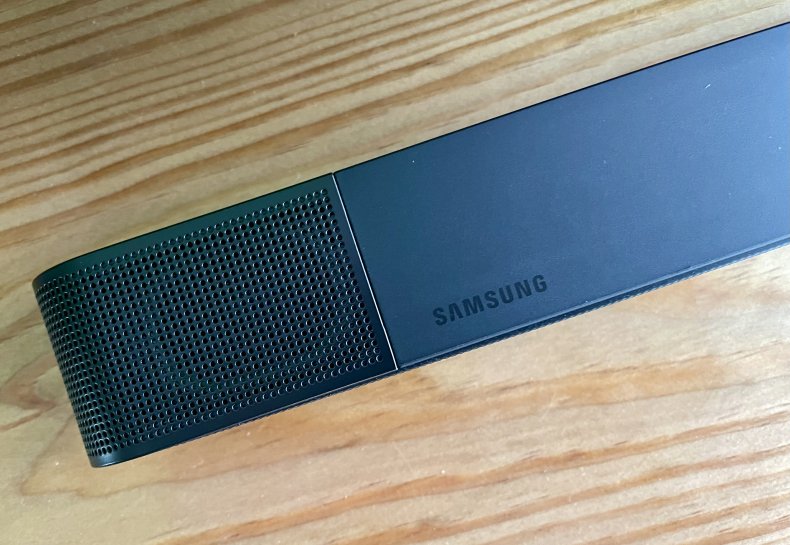 I like the amount of sound that comes out of the slim Samsung HW-S800B soundbar. The 10-speaker system delivers impressive room-filling sound and does a great job of taking advantage of Dolby Atmos to make sound seem like it's coming from above or from behind the room.
The Wireless Dolby Atmos feature allows you to use this mode without plugging a cord into your TV, but it only works with 2022 Samsung TVs. I tested the Dolby Atmos feature with a wired connection and enjoyed the quality live sports, Netflix binge, and gaming on the Xbox Series X.
Normally, when using a soundbar with a TV, the TV speakers are turned off, but owners of Samsung TVs can also take advantage of the Q-Symphony feature. This combines the soundbar speakers with the TV speakers to add depth. I've tried this with other Samsung devices, and it's a nice upgrade.
The HW-S800B supports Samsung SpaceFit, which analyzes the room and optimizes sound when connected to a Samsung TV. Samsung also includes support for AirPlay 2 and ChromeCast, allowing you to send music or other audio files directly to the soundbar. It's a nice feature when I want to listen to music without using the TV.
Compatible Samsung smartphones can tap the soundbar to play music via Bluetooth. The soundbar supports the Bixby voice assistant, but it doesn't connect with Google Assistant or Amazon Alexa.
Adaptive Sound automatically changes the sound profile based on what you're watching. There's also a Game Mode which helps deliver more immersive sound with the up-firing speakers while you're playing games. The soundbar may automatically enter game mode if connected to a Samsung TV while using a compatible game system. With Active Voice Amplifier enabled, you can hear the dialogue on your favorite shows better. This is useful when broadcasting shows with a lot of lyrics.
Design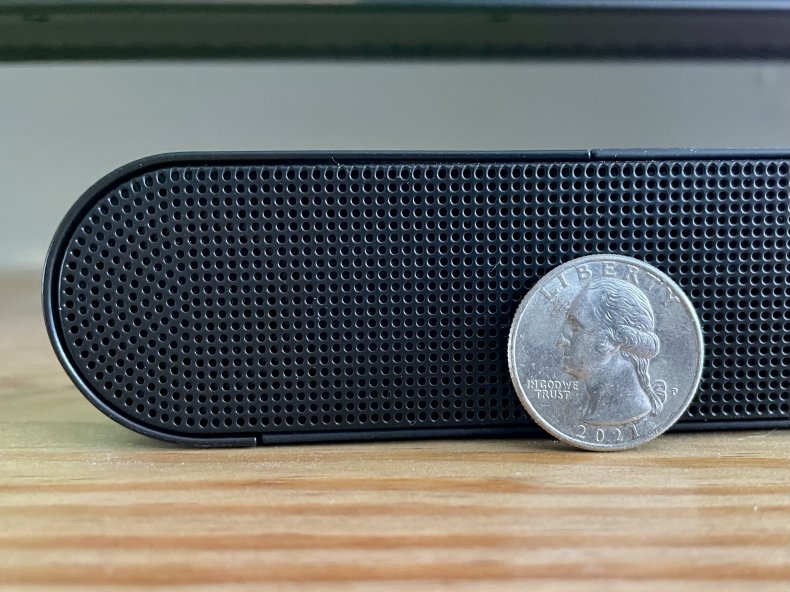 When I first saw the Samsung HW-S800B, I thought there was no way it could sound so good. I love the look of this soundbar for a wall-mounted TV, where it can blend into the wall setup more easily than most soundbars. The only display is made up of LED lights, which indicate that the soundbar has received a command from the remote.
Samsung will even offer a range of covers that will allow you to change the color of the HW-S800B to match your room or your Samsung Frame TV. The soundbar is 1.5 inches deep and 1.6 inches tall, so it doesn't protrude from the wall when mounted.
With the ability to wirelessly connect to a Samsung TV and enjoy Dolby Atmos, you can set it up with just a power cord to hide. It's one of the best soundbars I've seen.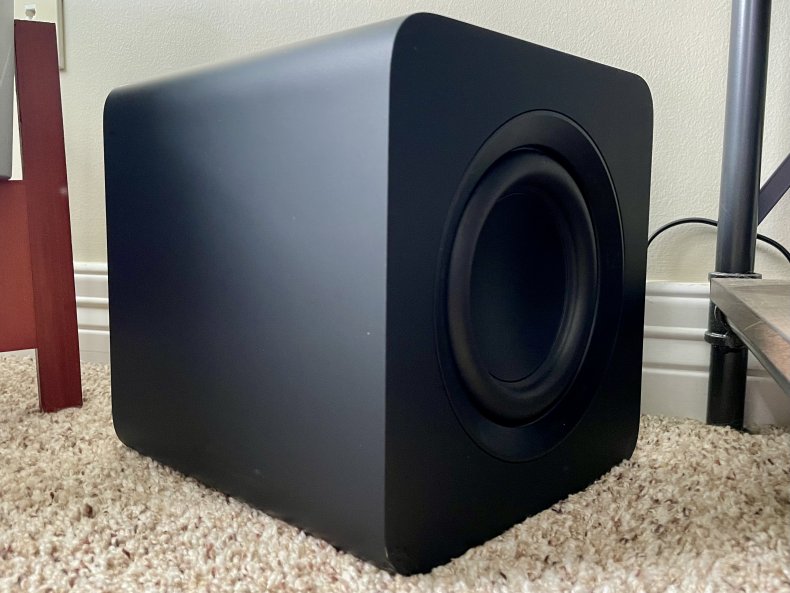 The only wired connection is a Micro-HDMI port. Samsung includes a Micro-HDMI to HDMI port that lets you easily connect to any modern TV via HDMI. This system doesn't include an HDMI input, so you'll need to connect all sources directly to your TV and then stream audio to the soundbar via HDMI, WiFi or Bluetooth.
The subwoofer connects wirelessly to the system for easy room placement. There are no rear satellite speakers for which you have to run the power or find space in your room. If you want to add surround speakers, you can purchase an optional upgrade kit.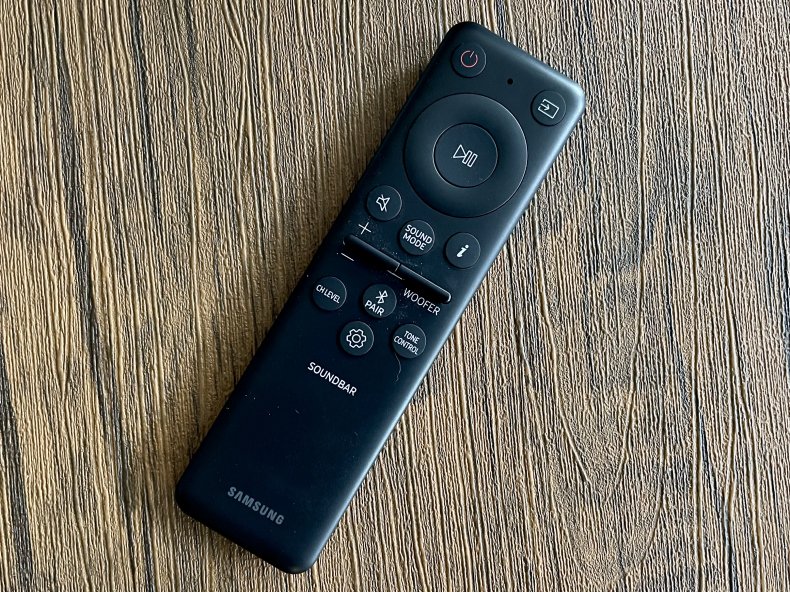 A slim remote controls the soundbar and your TV. It is easy to use and includes buttons for all important functions with just a touch.
Is the Samsung HW-S800B worth buying?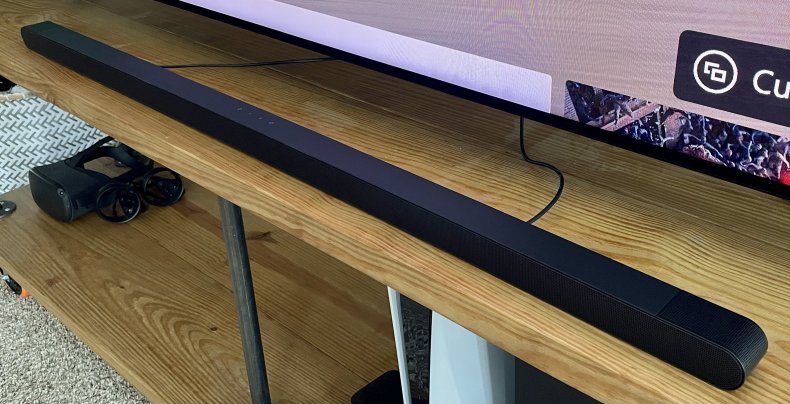 The Samsung HW-S800B is the perfect soundbar to pair with the Samsung frame or for other wall-mounted TV setups where style and space are important. This ultra-thin soundbar delivers epic sound, including support for Dolby Atmos.
Samsung offers impressive value with the HW-S800B for all users, but it's best paired with a Samsung TV that lets buyers take full advantage of all of its features.
Newsweek may earn a commission from links on this page, but we only recommend products that we support. We participate in various affiliate marketing programs, which means we may earn commissions on editorially selected products purchased through our links to retailer sites.